23 Mar

We're Open For Spring!

Greetings!

Spring is here and Natureworks is OPEN for the season! There may be snow outside, but inside our shop and greenhouse, flowers are blooming and all is right with the world. Slowly, ever so slowly, the "great reveal" is taking place in our gardens. Just yesterday morning I looked out at my lawn with a sigh, thinking, it may take forever for that snow to melt. By evening, a HUGE patch of green grass had revealed itself. It was such a dramatic change, even my husband noticed. The bright blue miniature Iris reticulata bulbs are in full bloom in our front shop border- yesterday they were flowering through the snow. Today, the snow is gone! The sun is very strong; snow hasn't a chance against the sun right now. So keep the faith!

I just picked a carload of pussywillows for you to use in your spring decorating. While harvesting them, I couldn't help but be inspired by the birds in my yard. They have been singing their hearts out and flitting about. What do they know that we can't yet believe? They know that spring is here and they are

celebrating. You should too…

The shop looks so pretty. My staff outdid themselves this year as they prepared for our grand re-opening. New merchandise fills every surface. Easter is still weeks away, but chicks, eggs, and bunnies can be found everywhere. Ruffled pansies, striking Ranunculus, and spring bulbs perfume the air.

Seeds are taking center stage this week. Our racks are constantly being restocked. Last Saturday we took Natureworks "on the road" to the Master Gardener conference. The excitement in the air was amazing. The most talked about and most popular seed sold? POPPIES! This snowy
| | |
| --- | --- |
| | |
March has dramatically widened the window for you to direct sow breadseed poppies. March is the ideal time. As the bare earth reappears, sprinkle poppy seeds everywhere. Then look carefully for the foliage to appear in early May- it is blue green and crinkled and looks a bit like lettuce leaves. You will be rewarded with an amazing display of these magnificent flowers that will re-seed for you for years to come. Diane likes to mix all the packets together. I sow 6 different kinds in six different places- purple ruffled ones, pale pink ones, doubles, singles… Of course, I have tons of poppies that pop up everywhere from years past. But I am always seeking out the new colors. Bees adore the poppies. I allow them, and the blue flowering herb borage, to fill my raised beds early in the season. This brings in the pollinators for the peas that climb above them on trellises.
Speaking of peas, St. Patrick's Day has come and gone, and nobody was able to sow their peas like the old saying tells us to do. Not to worry. I plant with the phases of the moon so my pea seed sowing day will be the weekend of April 8th and 9th. Peas like to grow their vines when it's cool. Early April gives them plenty of time to climb the trellis before they flower and form peas in June. Be patient. The ground should not be soggy when sowing. Use a soil thermometer. As the snow melts, cover your early planting beds with black plastic to dry them out and warm them up. Besides peas, you can direct sow seeds of lettuce, kale, carrots, radishes, broccoli raab, and a whole lot more. By then, we will also have our organic early season veggie seedlings in stock.
Dahlia tubers are here. It's time to select your varieties for this growing season. They make the best cut flower you will ever meet!
If you are itching to sow seeds, you should start getting organized to sow your tomato seeds indoors (if you haven't already). Tomatoes, peppers, eggplants, and tomatillos all need a head start before they are planted outside in late May after the danger of frost has past. This Saturday is Grow Day, our annual all-day workshop where we teach you how to grow lots of food from spring until
| | |
| --- | --- |
| | |
| | Jillian has been working really hard restocking the seed racks |
fall. Early registration is over, but walk-ins are welcome. It is held at the Zion Episcopal Church in North Branford from 9-3. If you are planning to grow food this year, come to Grow Day and get organized! Be there! After that, there is one more class left: pruning! I love to teach this class and hundreds of people have taken it. Once you know the basic ground rules, pruning is fun and relaxing. Details can be found below on these workshops and many more exciting events happening at Natureworks in the coming weeks.
The month of March is when our native mason bees begin to emerge from their nesting tubes and start flying, looking for early flowers to pollinate. Be sure to read our new Mason Bee handout on the website
Click Here
. It explains how to install mason bee houses, how to replace the tubes each spring, and why this particular native bee is such an awesome pollinator. We have everything you need to welcome mason bees to your yard. Natureworks is all about protecting and helping our pollinators and we invite you to join us in this important mission. Our motto is:
Bee the change you wish to see in the world
by helping our pollinators.
We want the younger generation to also know and love our pollinators too
From organic soaps made in the USA from the finest essential oils, to eggshells (from Diane's chickens!) filled with pansies and set into vintage style egg cups, from cute containers filled with fresh flowering plants to new gardens hats, tools, and gloves, we have just what you need to think spring.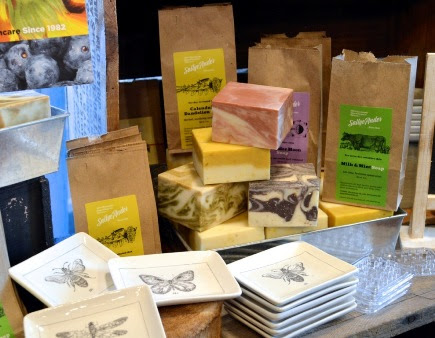 Check out our new organic soaps: Calendula Dandelion, Milk and Mint, Lavender Moon, and Almond Goat Milk
You just have to make time to stop in this week and celebrate with us. See you soon…