29 Nov

Are you Coming to our Open House?

I hope you had a lovely Thanksgiving holiday. We thoroughly enjoyed Green Friday and Small Business Saturday with Santa Claus. We officially have kicked off the holiday!
| | |
| --- | --- |
| | |
| I pick fresh winterberry branches every few days to add to our arrangements. | |
This Saturday and Sunday is our 35th annual Christmas Open House. This tradition started back in the 80's in Stony Creek. My shop was heated by a giant woodstove and I had a pot of mulled cider on the stove for my customers. Back then, I made all the cookies in my tiny cottage kitchen AND decorated all the wreaths! How far we've come… Now my staff does most of the baking and I have two very talented designers besides myself making the wreaths. Other members of my staff are making roping, studding porch pots, and making swags. We are also constantly making our signature arrangements, many in tiny pots and whimsical containers.
Open House Weekend is a chance to celebrate together. There will be wine, mulled cider, and all kinds of delicious goodies. We will be fully stocked with the fullest, most beautiful premium Fraser fir cut trees that we have ever had- including really tall ones. Decorated wreaths will fill every available outside surface, and our bins of freshly harvested greens will be overflowing. We just got in another ribbon shipment, and we are having so much fun creating everything from scratch and filling custom orders.
And yes, we name our trees! This is also a tradition. Many folks can recite the names of the trees from the past five years when they come in!
This weekend I finally planted my garlic and the rest of my bulbs. We do have a few outdoor bulbs left and they are now half price if you can muster the energy to pop them into your gardens. I also continued to add evergreen boughs to the pots on my deck and they are starting to look quite lovely with such a wide diversity of textures and colors. I twisted up a huge grapevine wreath to use as a base for my giant lit evergreen wreath on the front porch that will welcome me home every night for the next couple of months. I also made many extra grapevine wreaths for us to decorate with greens here at Natureworks. This week, my crew is coming to my house and harvesting a truckload of greens- I am letting them climb the tall ladders at this point- my tress have grown so much this year!
Inside the shop, we are having a blast playing with our ornaments and filling every container imaginable with greens. Houseplants are everywhere as well as flowering plants, tiny poinsettias, and bulbs for forcing. Succulents? Yes, we have them too. I think one of the best gifts you can give someone is to fill their winter windowsill with lush plants. I know it cheers me up to walk into my home office and see plants on every surface.
Our expanded holiday hours start NOW. We will be open late on Thursday evenings till 7 pm. It's a relaxing time to shop, and with all the sparkling lights and natural scents, it is quite magical. Tune in this Thursday evening at 4 pm for Facebook Live. This week I am going to demonstrate how I make a mixed evergreen wreath, with a quick bow making lesson thrown it!
This Fraser fir wreath is embellished with blue berried juniper and fragrant Concolor fir. Don't you just LOVE that red cardinal ribbon? Our wreaths are WiltPrufed, double sided, very full, and VERY fresh.
This is an ideal week to spray WiltPruf on your evergreens. With all the rain we've had, the plants are fully hydrated. The temperatures will be much warmer than last week, right in the range for applying WiltPruf. Of course, we are hard at work dipping our fresh cut evergreens and wreaths in WiltPruf before we restock our benches and bins. It makes a huge difference.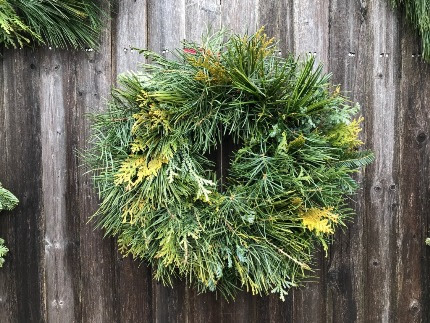 Evergreens of every type can be made into wreaths, swags, or roping. I harvested the lacebark pine, umbrella pine, golden arborvitae, Thujopsis, Concolor fir, Boulevard cypress, and Green Giant arborvitae from my gardens to make this wreath.
The only limit to the natural decorating possibilities is your imagination! My talented staff can help you choose the look that is right for your home, indoors or out. We don't call ourselves the Natureworks Christmas elves for nothing!
I hope you can stop in this week, perhaps on Thursday evening, and on the weekend to celebrate our 35th year in business at our festive Open House. Let's raise a glass of cheer together…