22 Dec

Last minute ideas for folks on your gift list

Are you looking for some last minute ideas for folks on your gift list? Natureworks is the place to go this weekend. We are open Saturday 9-5, Sunday 10-4, and Monday 9-6. We are overflowing with the most beautiful arrangements of fresh cut greenery, flowers, holly and berries. I continue to harvest greens (albeit frozen ones!) every morning. As fast as we make new creations, poof! They fly out the door.
One of our most popular gifts are our small arrangements. They start at $14.99 and are the best choice for anyone you need "a little something for" but don't know what.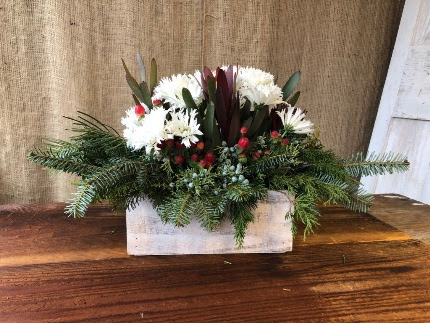 Everything we make is unique. Amber, Leslie, and I can be found in the greenhouse design studio. You can walk in and watch us work, pick out the flowers and greens that you like, or ask us to customize something just for you.
And it's certainly not just about fresh arrangements. Inside the store, my staff keeps on planting interesting succulent gardens, terrariums, and all sorts of fun, living gifts that will add cheer to any winter windowsill.
There is so much to see. On the cash register counter we have the wonderful Bedrock Tree Farm candles, hand creams, and soap. They are made locally and everyone raves about them.
Don't forget to check out our book shelves where we have lots of carefully selected books for gardeners, cooks, flower arrangers, herb lovers, wanna-be garden designers, and so much more. Organic gardeners will be thrilled with a book from Natureworks accompanied by a gift certificate.
Seeds make great stocking stuffers and we just filled up our racks this week. Breadseed poppies, milkweed, heirloom tomatoes- we have really just begun with our complete 2020 seed selection, but this is a good start and will certainly make the gardeners on your list excited for spring.
Planters. Terrariums. Succulent Gardens.
Taper candles that won't drip on your tablecloth.
Bunches of holly and aromatic greens to deck your mantle.
A bouquet of fresh flowers to place in the guest room.
Fun, fuzzy ornaments for every kid who is coming to visit-start a tradition!
Kids books to inspire the budding gardeners among us. Pretty, hand selected poinsettias and healthy houseplants. Organic houseplant food for the winter…
I guess you get the picture- it's a fun, festive hotbed of creativity at Natureworks and we are open until 6 pm on Monday evening. Then, we all go home and relax and will be closed for the season.
We LOVE to help you. We REALLY appreciate you and all you do to support Natureworks and keep us designing, planting, and creating for 36 years. We are so looking forward to 2020 and the possibilities of the growing season ahead. But first, come in and grab a few last minute gifts and fun things to make your home more festive, raise a glass of cheer with us, and celebrate the season.
Custom orders are welcome. We love to add candles to any centerpiece. These are beautiful blue sea holly flowers in this arrangement. Isn't it pretty?
Check our
naturework.com
website for information about winter and spring gardening classes.
A
symposium
by the CT Horticultural Society be on Saturday, February 1, 2020. It is a one day educational seminar and will be held at The Mark Twain House in Hartford, CT. Since this event usually sells-out in advance, early registration is recommended.
Seedy Sunday, is the one day we open during the winter to sell seeds and seed starting supplies. Mark your calendar for Sunday, February 9, 2020. We'll be open from 9am to 4pm.
The Connecticut Flower and Garden Show will run from
Thursday, February 20 through Sunday, February 23, 2020.
Natureworks will have vendor booths in the exhibit hall and will also be teaching in the lecture rooms.
Here are the details.
The first day of spring falls on Thursday, March 19, 2020 so that will be our Opening Day. Come by between 8:30 am and 6:00 pm to Welcome Spring!