19 Nov

Succulent Centerpieces

Thanksgiving is next week! Just writing those words amazes me. Time seems to be flying by so quickly. We are creating some wonderful, quite unusual arrangements for you to decorate your Thanksgiving table and bring to friends. Imagine my delight when Amber, Kassie, Jillian, and Diane greeted me with the

succulent pumpkin arrangements

shown above! Awesome! I had just been searching "tablescaping" on Pinterest and these unique creations fit the bill. We would love to make a lot of them for your holiday table, guests, or as hostess gifts.
This Saturday from 11 am-12 noon I will be demonstrating how we put together our signature, all natural Thanksgiving arrangements. Each morning this week I will fill my car with fresh cut orange winterberries, green Kerria twigs, redtwig dogwood branches, golden evergreen foliage, boxwood, Ilex, and fresh cut sage to use in these designs. We will also have a sweet selection of fresh and dried flowers, pods, seeded Eucalyptus, and other greenery to play with. See how we work our magic right before your eyes. You can place an order for a custom Thanksgiving centerpiece or hostess gift at the same time.
This coming Sunday is Chocolate Sunday! That's the one day of the year when all of my staff makes chocolate goodies and brings them into work for YOU to enjoy. Why? We just think that shopping goes so much better with chocolate! Besides, wouldn't you rather come to a cute, special shop in an old house on a country road than battle the soul-less shopping malls right now? We moved this event up one week, figuring it should happen before everyone hits the road for the Thanksgiving holidays. Plus, it will get your digestive system ready for all the feasting ahead.
Just what is Jillian doingwith that red door? Wait till you see what my retail staff has come up with to display our wreaths, swags, roping, and greenery this holiday season: DOORS! Within the next few days, each of these doors will be decorated with our beautiful creations. "Where did you get all these doors?" you may ask. We got them on loan from Urban Miners in Hamden, CT. Urban Miners salvages cool, old stuff from houses that are being torn down and saves them from going into the landfill. Their customers love the history of each piece and reuse them in their own projects. Two years ago we bought salvaged barn wood to make store shelving. We love these guys!
This Thursday evening from 5-7 we are having an Open House to show off our new design studio. Our greenhouse is now our GreensHouse! Three spacious (to us) design stations are located there along with racks and racks of the most gorgeous ribbon, baskets of all kinds, cones and pods, and all the embellishments we will need to make our holiday designs. I am off the road and in the design studio
starting TODAY!Thursday night will be a nice opportunity to come, sip some wine, and review your orders for this holiday season. Naturally, if you have placed custom orders from us before, we have all of the measurements and specifications in our files. You can call or stop in anytime to tell us what you would like to order this year. Custom work is always welcome!
What sets us apart? First of all, many of our greens are harvested in my yard or from local landowners. Second, once the greens arrive at Natureworks, they go through a laborious process of bunching, followed by dipping in WiltPruf, an all natural, anti-desiccant solution made from pine sap.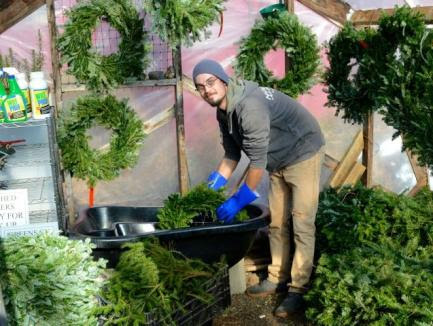 Erich is dipping our greens in WiltPruf and processing them before they are put out on our retail benches. Let the fun begin!
This makes the greens last a LOT longer. We dip our wreaths, grave pillows, and roping too. Then we lay them out in the sun on pallets to dry and onlythen do we put them out for sale. This is a constant process for the next four weeks. Each day, different greens arrive. Visit often to see what's new.

Once again we are heading into the holiday season with violence dominating our news. In this season of goodwill and peace, there is no better time to set our intentions for the next six weeks to be filled with our own, personal vision of comfort, friends, family, home, and peaceful hearts. That's where it all begins, after all. Whether you put a peace pole in your garden, hang a peace wreath on your door, or just spread good cheer and good works throughout your local community, please remember that every action, no matter how small or seemingly insignificant, really matters. Don't fall into the stress trap. Instead, seek out local businesses that make your community
welcoming and wonderful and band together with them. Shop local, support local businesses and your neighbors that they employ. Celebrate creativity, ingenuity, and the personal touch that only a local business can extend.
With all that we have going on in the next week, I KNOW I will see you very soon…