03 Jun

The Plants are Rejoicing!

Rain at last! As gardeners, it has been very difficult dealing with six weeks of drought and heat during the spring. The spell has been broken. Our rain gauges are overflowing. Deep, soaking rain for three days has revitalized the landscape. Planting season resumes, full speed ahead! If you were a bit discouraged before, you should be really encouraged now. Early June is the time we have the most diverse selection of cool, unusual annualsand perennials. My customers now feel like they are "kids in a candy store"! It just doesn't get better than this.
Eggplant 'Orient Express'
Our veggie benches are completely restocked and our organic veggie plants are on sale at 20% off. We ALSO have tons of herbs, strawberries, blackberries, blueberries, asparagus, rhubarb, goji berries, and other edibles. We have seeds on our racks for flowers, herbs, and veggies. The full moon was Tuesday night; it's now time to plant root crops such as carrots, beets, and turnips.
This Thursday evening and this Saturday morning, I am leading a free garden walk that is perhaps one of the most important walks of the growing season if you have a perennial garden. I will be teaching the techniques of cutting back perennials to make them branch
and
to double their bloom period a la our "bible", the book The Well Tended Perennial Garden by Tracy DiSabato-Aust. RIGHT NOW is the season to pinch asters, perennial sunflowers, Joe Pye weed, Phlox paniculata, Sedum 'Autumn Joy' and so much more. Join me for this valuable lesson. As I say to my crews: "If you are not walking out of the garden with tarp loads of debris right now, you are not being brave enough!"On Sunday we are thrilled to welcome back our friend Jeff Woodward. He will be teaching a hands-on workshop where participants will make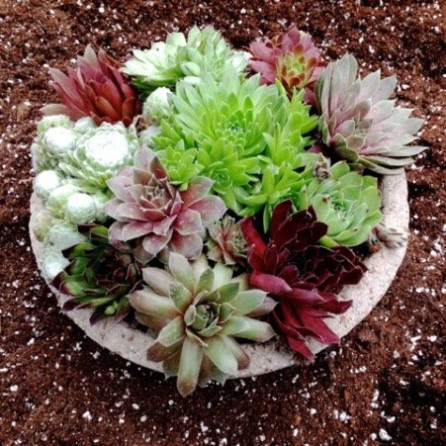 their own hypertufa trough to bring home with them. He will also be bringing a nice selection of succulents that will compliment our alpine and dwarf herb collection. Treat yourself to this fun workshop, registration details are below. Once your trough is completed, we will help you choose appropriate plants for your light levels.
To cut or not to cut, that is the question? For the past two weeks I have had this same question over and over. If you still have dead sticks on your hydrangeas, butterfly bushes, crape myrtles, Vitex, Callicarpa, Abelias, or any other summer/fall blooming shrubs, cut it off. If it hasn't sprouted by now, it isn't going to. Things are looking good for hydrangeas this year and I am seeing LOTS more flower buds forming on the plants.
Enjoy the renewal brought to us courtesy of Mother Nature. Come in, pick out a wagon load of colorful, fun, fresh plants and keep on planting in  your gardens. June is in full bloom, our gardens are glorious, our benches are overflowing, all is right with the world.
I look forward to seeing you very soon…
-Nancy
P.S. So you're wondering… what's this about a party? We're having an Anniversary Party on June 6th. Hope you can come!